The Story Behind Anappurna:
The name is inspired by Annapurna, the Hindu Goddess of food. Annam means "food" and Purna means "fulfilled". In India, food is considered sacred and it is believed that one cannot achieve spiritual fulfillment without maintaining good physical health, the prerequisite for which is good food and diet. Hindu mythology states that when Annapurna blesses the food it turns into "Amirta". It is a Sanskrit word that means 'nectar of immortality'.
The Goddess of food is a vital figure in Indian mythology and you could see her picture adorning the walls of countless kitchens in India. She is also considered a symbol of providence, wealth and charity. From a spiritual, ideological and a personal level there is no better symbol which could have represented our core values than Annapurna, the Goddess of food.
The philosophy behind the Indian food culture is strongly bound with spirituality and reverence for both the food and the people who are being served the food. This aspect of the culture is often left behind when Indian food is introduced to the rest of the world. We make sure that the spirit of Indian cooking is kept intact and authenticity reflected in every aspect of your dining experience.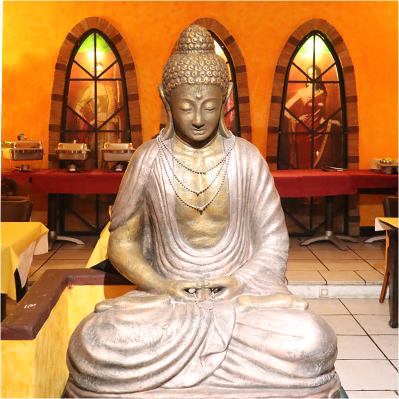 Why Us
Our Philosophy
A single line from an ancient Hindu text could perfectly illustrate the entire foundation of Indian hospitality.
Atithi Devo Bhava
When translated from Sanskrit, it simply means "The guest is equivalent to God" which suggests we treat a guest the same way we would if a God entered our house. We at Anappurna take this mantra to heart and serve our guests an inimitable experience along with delicious food.
Our Aim
Anappurna was started as an initiative to truly present Indian food and the practices associated with it in its pristine form to our Berlin customers. Right from the spices used to the recipes followed, the serving etiquette and the ambiance, everything was carefully selected and professionally crafted to bring to life the best of Indian culinary traditions.
What We Bring To The Table
We assembled a world-class team of cooks from India who previously worked in some of the most prestigious organizations in the world. With their extensive experience and expertise in north Indian cuisine, we were able to design a menu that holds a wide range of authentic north Indian dishes made with aromatic spices and age-old recipes passed down through generations.
PRIVATE EVENT
Anappurna extends its services beyond its tables with pride and joy. Now you can host your parties, sit back relax and enjoy with your friends, family, and colleagues while we make sure you get the best of our food and services at your comfort. Anappurna provides dedicated services to a wide range of private events like birthday parties, corporate events, cocktail parties, wedding anniversaries, etc. We are delighted to help you create wonderful moments and pleasant memories.